The life of an academic is never dull and what I especially enjoy is the good news that arrives!
Last night I heard from my 16th PhD student,
Dr. Min Yu
, who received her PhD from UMass Amherst in 2012, with a concentration in Management Science, that she had been awarded promotion to Associate Professor and tenure at the Pamplin School of Business at the University of Portland in beautiful Oregon. This is a big milestone and we are all thrilled for her! Dr. Yu was not only my PhD student (I have chaired 20 PhD dissertations to completion) but we continue to collaborate on a variety of supply chain network problems from food to sustainability. And just this past week, with a present doctoral student of mine, Deniz Besik, we completed a paper, "Dynamics of Quality as a Strategic Variable in Complex Food Supply Chain Network Competition: The Case of Fresh Produce," and submitted it to a special issue of a journal (and we met the deadline). This paper we will be presenting at
the NEDSI conference in Providence
, Rhode Island (I have a soft spot for this city since I have 4 degrees from Brown University) and it is beautiful there in April. Another doctoral student of mine, Pritha Dutta, will also present at this conference and the title of that paper is: "Supply Chain Network Competition Among Blood Service Organizations: A Generalized Nash Equilibrium Framework."
Last week I had the pleasure of being interviewed for a radio segment by Karen Brown:
'Critical' Blood Shortage Comes Down To Weather, Flu And Supply Chain, which aired on NEPR and several other state public radio stations. It is gratifying when research that one does can impact practice.
We received a contract from Springer to edit the volume:
Dynamics of Disasters: Algorithmic Approaches and Applications
, which is shaping up nicely with multiple papers now in the revised, accepted, or being reviewed stages. I am co-editing this volume (as I did the one published in 2016) with Professors Ilias S. Kotsireas and Panos M. Pardalos and my co-authors and I have revised our paper,
A Variational Equilibrium Network Framework for Humanitarian Organizations in Disaster Relief: Effective Product Delivery Under Competition for Financial Funds,
Anna Nagurney, Patrizia Daniele, Emilio Alvarez Flores, Valeria Caruso, and it is now accepted.
This week we published the 2018 Winter edition of
The Supernetwork Sentinel
, which is the newsletter of the Supernetwork Center at the Isenberg School that I founded in 2001 and continue to direct.
This newsletter, as well as all previous ones, can be downloaded here.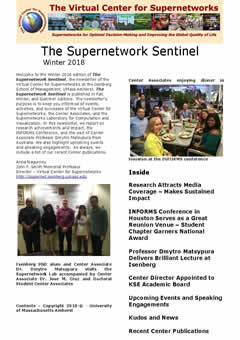 It is amazing, if I may say so, what the Supernetwork Team accomplished in the past few months and all the wonderful activities and events on the horizon!
This week we also heard that Dr. Burcu Balcik, renowned in humanitarian logistics, will be coming to speak in our UMass Amherst INFORMS Speaker Series on March 30, and we are thrilled and delighted. Our first speaker will be Professor Hari Balasubramanian, who will speak on February 9, followed by Professor Jim Orlin of MIT on February 23, Dr. Les Servi on March 23, and Dr. Davit Khachatryan on April 20! On several of the "remaining" Fridays I will be giving talks at WPI, in Italy, Switzerland, and Wisconsin.
Plus, I am teaching my Humanitarian Logistics and Healthcare class this semester and I am also hosting multiple Guest Speakers as Professor for a Day! Today, we had Mr. Jeff Hescock, who is the UMass Interim Executive Director of Environmental Health & Safety plus the Director of Emergency Management and Business Continuity, speak and he was amazing! Below is a photo taken after his lecture.
In this class will have also other guest speakers (the response to my invitations has been tremendous and I am so grateful) who have worked for (or are presently employed by) MEMA, BayStateHealth, Doctors without Borders, and UMass Amherst, and additional speakers on Disaster Communications and other topics.
And, this week, I was honored to again assume the position of being the PhD Coordinator for Management Science at the Isenberg School, a position that I held for over a decade. I thank my colleague, Professor Ahmed Ghoniem, for his excellent service in his capacity as the Coordinator for the past few years. Doctoral students are essential to the vibrancy and intellectual energy and productivity of a great research university such as UMass Amherst!
We have also been very busy working on a big proposal to the National Science Foundation on a truly exciting, multidisciplinary project and it is super to also be part of this team.